Earlier today, D2N2 led the highly successful launch event for East Midlands Hydrogen, held at Toyota Motor Manufacturing UK's HQ in Burnaston, Derby.
East Midlands Hydrogen is a new, industry-led initiative that will boost the energy revolution in the East Midlands by growing the UK's largest inland hydrogen cluster.
East Midlands Hydrogen is supported by lead partners D2N2, Cadent, Uniper, Toyota, East Midlands Freeport, Midlands Engine, Leicester and Leicestershire Enterprise Partnership and the Midlands Net Zero Hub. Alongside the lead partners, there's a range of supporting businesses from different industrial sectors, and we are pleased to announce that there are now over 44 businesses in the consortium.
Over 170 delegates attended the packed event, chaired by our Chief Executive, Will Morlidge, and hosted by Tim Freeman, Deputy Managing Director, Toyota and D2N2 Board Member. Delegates listened to keynotes from Government, namely Lord Callanan, Minister for Energy Efficiency & Green Finance and Dharmesh Jadavji – Department for Energy Security & Net Zero. We also heard compelling and insightful addresses from Sally Brewis – Cadent, Guy Phillips – Uniper, and Tom Newman-Taylor – East Midlands Freeport, all explaining how they are playing their part in realising the ambition and mission of East Midlands Hydrogen.
Our keynote speakers talked about how this partnership will accelerate the development of, and attract investment to, the growing cluster of concentrated hydrogen demand, production and distribution infrastructure in the East Midlands.
Delegates also heard from a panel of industry speakers from a range of different businesses who back East Midlands Hydrogen, as part of their drive to decarbonise their operations. Delegates were able to ask questions of the panel and keynote speakers during the Q&A, and Councillor Robert Pearson, Leader of South Derbyshire District Council, closed the proceedings.
Outside the conference hall, there was a range of hydrogen-powered vehicles for delegates to view, including Toyota's Hilux, Mirai, hydrogen bus and forklift, together with South Derbyshire District Council's hybrid hydrogen/diesel refuse vehicle, all parked near Toyota's hydrogen production, storage and dispensing capability display.
Thank you to all our Board members, MPs, partners, consortium members and stakeholders for joining us today. It was great to see you and have your support.
In another development, we're also excited to share that our new East Midlands Hydrogen website has gone live today! Take a look at it here.
East Midlands Hydrogen supporters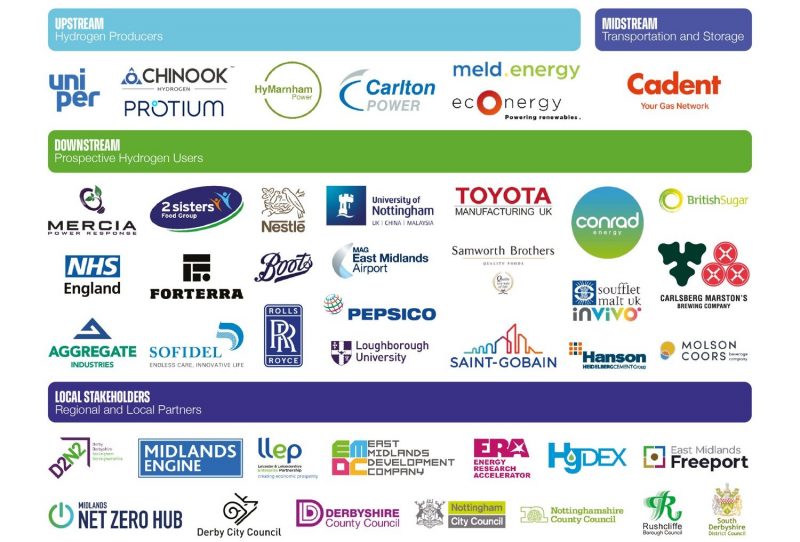 For media enquiries, contact:
Nicola Swaney,
Head of External Affairs, D2N2 LEP
nicola.swaney@d2n2lep.org