We have discussed before about the importance of the Midlands collaborating effectively to drive forward the key priorities for the Midlands in part as a response to the overheating London and South East economy and the Northern Powerhouse and partly on the back of the announcement by Cameron and Osborne last month of an economic plan for the Midlands .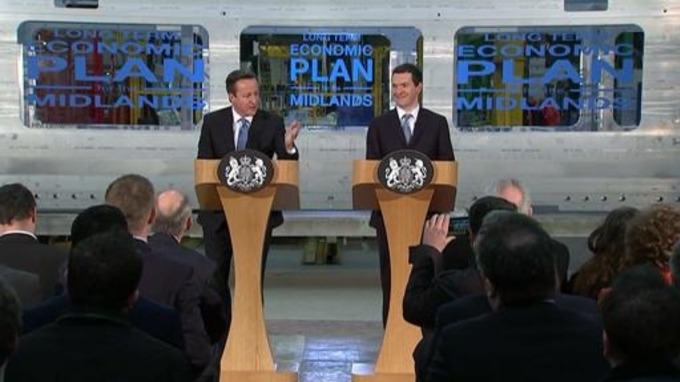 David Cameron and George Osborne Announce a £5.2m Economic Plan for the Midlands at Bombardier in Derby (Photo Credit – ITV Central)
On Monday Midlands LEPs are meeting to look specifically at transport under the Midlands Connect framework but in preparing a scoping document – Midlands 2040 – Enabling the Citizens, Communities and Businesses of the Midlands to achieve their potential, I propose 5 key themes.
People-Centred
Connected
Smart
Innovative
Low Carbon
It is a personal proposal not a D2N2 document trying to generate a dose of authenticity and USP about the Midlands (Powerhouse) and particularly being the heart of UK Manufacturing heart of the UK.
I do however feel strongly that the East Midlands and the wider Midlands generally needs to set out a clear and compelling vision that enables this area to reach its potential.
Whilst our industrial heritage is important, the vision for the Midlands – which is home to world class talent and businesses – needs to look forward not just in terms of transport, but in terms of place and most importantly, collaborating effectively to do so.
2040 is 25 years away – a generation. Midlands 2040 represents a once in a generation opportunity to capture our key competitive advantages. Although it comprises a single generation, the work starts from today and as with all place making, it needs to start with its citizens.
Therefore, I advocate Midlands 2040 to help the argument that the vision for the Midlands should not be written by individuals but by it's citizens, communities and businesses.
David Ralph Chief Executive D2N2 Local Enterprise Partnership